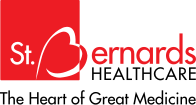 Company Name: St Bernard's Health Care
Job Location: Jonesboro, AR
Job Position Type: Full Time
Job Description:
Maintains a complete and systematic set of records of all financial transactions of the various corporations. Prepares financial statements for various Governing Boards. Prepares/Assists with Audit work papers, Cost Report work papers to include Wage Index, 990's, Budgets, Community Benefit, and other accounting related task and projects. Actively participates in the design, development and implementation of financials systems. Utilizes independent judgment and works independently of direct supervision. Reports to the Corporate Controller.
Qualifications:
Bachelor's or Master's Degree in Accounting required.
Minimum of 8-12 years accounting experience in a multi-entity hospital environment or public accounting.
Ability to multitask, work under pressure and against stringent deadlines in a fast paced environment. Proficient computer skills working with Excel, Lawson, Meditech, Monarch, QuickBooks, imaging system and other A/R software. Excellent customer relationship skills and time management skills. Ability to work well with a team as well as independently.
Application Link: https://candidateportal.wittkieffer.com/login?returnUrl=%2Fdescription%3FjobID%3D22736
Employer To Contact:
Ilsia Nuhung
(870) 207-4905
Employer Email: imnuhung@sbrmc.org